By Regina | 10 March, 2019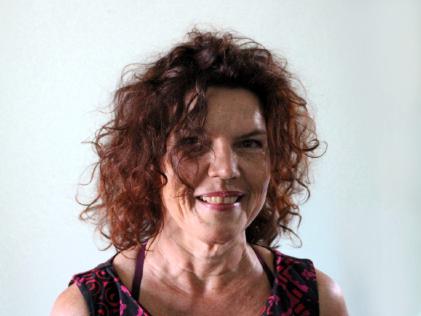 My name is Regina Hickl and I have lived since 2006 as a visual artist in Berlin. The lively diversity of this city is very close to my nature and I feel very well here.
My wonderful studio in the Arcostrasse is, for me, a hotbed for new ideas, an atmospheric classroom for the loyal art students who have come to me for years and is a kind of island where time flows more slowly.
South Germany
I was born in 1962 in South Germany. After school I learned to be a Typesetter. Via a friend, who was severely mentally ill during this time period, I became aware that I wanted to work professionally with people.
I studied art therapy in Nürtingen and finally I had the feeling to be in the right place at the right time. I received two important helpful sentences from my mentors: The head of the school Mr. Türk, always encouraged us with the sentence "just do it", i.e. not so much to think but rather to indulge in intuition and be guided by it.
The second sentence was: "If you want to draw a table, you have to be the table". The lecturer who said this was a Zen practitioner.
Nürtingen
I worked as a typesetter, as an art therapist with prison inmates and with people in mental crises. I ran art classes for the VHS until a deep feeling advised me to leave that behind, which felt like a hamster wheel.
Canary Islands: La Gomera
A holiday trip to La Gomera (Canary Islands) was the revelation. Two years later, I shifted my center of life to La Gomera to experience a completely different way of living.
During one of my first jobs as a tourist guide, driving visitors with a jeep around the island, a started to get more and more portrait customers. The good rapport with the town council, Ayntamiento of San Sebastián, developed into regular jobs and instructor activities.
When everything was so good that hardly any improvement would have been possible, a Canadian showed up to invite me on an Atlantik crossing.
Atlantic crossing
I decided to spend 28 days at sea, with a person who I barely knew, in a 7 m sailing ship called Felix. This was the best decision I had ever made. This journey was to be one of the greatest teachers ever. Before leaving, a fisher friend told me that crossing the Atlantic was a great cleaning. This was true.
La Gomera
1995 - 1998
Regular commissions by the city of San Sebastián de La Gomera for design and painting of stage decorations (carnival and other celebrations)
Participation in group exhibitions
Honored with the VI Concurso José Aguiar
Portrait drawing at the market
Painting and drawing courses for locals of all ages
Gran Canaria and teams
2000 - 2003
13 projects in Gran Canaria in collaboration with a Dutch team
This included design, painting and font design for facades of bars, restaurants and hotel walls
Teacher of drawing courses
Myanmar
2003
La Gomera
2003-05
My own gallery in La Gomera
Commissioned painting (including 2 discos)
Organising and running drawing classes for the city of San Sebastián
Berlin
From 2006
Mainly
Commissioned painting, illusion painting, portrait
Regular drawing training and lessons for portrait and nude.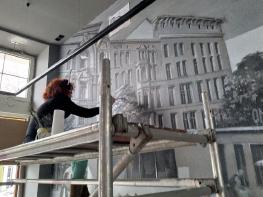 Some videos of me at work.