By Regina | 10 May, 2019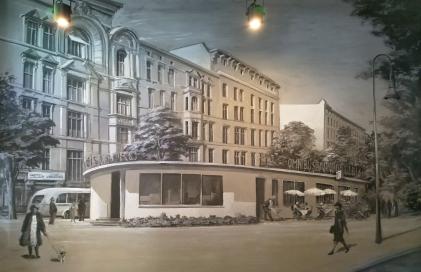 The story to the picture
Dollinger is well known sunny café restaurant on Stuttgarter Platz in Berlin. During their refitting they requested me to do a wall mural, which I did with Gert Neuhaus .
Here is a short video (5 minutes) of it being painted.
---
Technical details
Size: 500 cm x 370 cm
Type of artifact: Mural, illusions painting, wall painting
Skill used: Painting
Techniques used: Wallpaint
[i18n] workBasísMaterialsTitle: Plaster

---
Catalog details
People involved:
Regina Hickl, Gert Neuhaus
Partners involved:
Giebelmalerei
Created in year:
2019
Places:
Stuttgarter Platz, Berlin
Studio works number: 1005
---
Viewing details
Where it can be seen: Restaurant

Viewing notes:
http://dollinger-berlin.de. Telephone +49 30 355 14 104

Address:
Stuttgarter Platz 21, 10627 Berlin, Germany

---
Acquiring details
Comment: This work is not purchasable.